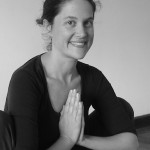 Qi Gong is a beautiful and profound practice, with its emphasis on moving energy with mindful and flowing movement. Abby has a very friendly, encouraging and warm approach making these beautiful sequences easy to learn and accessible for everyone.
I love the simplicity of the practices that connect me with an inner strength and calmness. I have enjoyed the influence of Qi Gong in my yoga practice and yoga teaching.
I would highly recommend Abby's classes for anyone who wants a gentle yet profound practice for well-being.
Anahata Giri – 
Qi Gong student and Yoga Teacher
Abby brings to her classes a deep connection to and understanding of the practice of Qigong. She encourages each student to work to their ability, individually guiding and encouraging within the class environment. She changes the pattern each week to deepen her students connection to chi. Abby also passes on her knowledge and understanding of chi, meridians and Qigong in a gentle and encouraging manner. Abby is a nurturing, caring and encouraging teacher.
Anne Russell – Teacher, Therapist
I have so much gratitude for lovely Abby Lee for teaching me the art of qi gong with so much love and interest. Not only is she a delight to speak with but all my qi gong sessions had been extraordinary. Everything I need seem to come to be at perfect time in my healing journey and learning qi gong from Abby was one of it. I allowed the connection and in each session I had powerful insight that how body can be a beautiful instrument to get in touch with our spirits, to enhance well being, concentration and achieve silence of mind. I also purchased a qi gong DVD from Abby which helps me to continue my qi gong practice in my busy life. Qi going is essential for everyone who feels they need to bring balance to their life and lift up their energetic vibration. Thanks to Abby Lee for sharing her indepth knowledge of qi gong and enriching my understanding of the connection between body and spirit.
Gagan Watika, Seeker